When you think "startups," you might think of high-tech companies turning code into big dollars. But the Mississippi Polymer Institute's pitch competition held in March 2022 sent three companies that plan to build physical products—two for construction and one for healthcare—to the CoBuilders statewide accelerator cohort this summer.
Vertecore Technologies, based in Jackson, is a medical equipment manufacturing startup that aims to improve how we treat spinal disorders. The company's Vertecore Lift device treats back and neck pain without surgery, drugs or hospitalization. Their team looks forward to soaking up the lessons from the accelerator leading up to the Pitch Day presentation to the public and the Mississippi investor community.
"CoBuilders Accelerator is poised to be a great driver for innovation in Mississippi and beyond," said Vertecore CEO Paul Leake. "With the reality of COVID, coming home to Mississippi was the natural progression for [Vertecore]. The CoBuilders Accelerator offers us the opportunity to do that in a cost-effective manner that would help to establish us and provide an investor-ready platform."
Based in Madison, Miss., Terry Butler has been working on his invention, The Popper, for several years now. His experience running restaurants and working in real estate led him to invent a novel solution for patching drywall. Butler plans to market the Popper starting with Ace Hardware Stores, where he also expects to get feedback from the store associates and managers. In his Hattiesburg pitch, he showed off a new prototype manufactured at the Mississippi Polymer Institute and anticipated being profitable within two years.
CEO Mark Isaacs' HS Research LLC has developed the WonderWindow, a highly efficient window for residential and commercial development, which could dramatically affect the cost of heating and cooling buildings. The WonderWindow, according to Isaacs, is 300-400% more efficient than the "state-of-the-art" windows on the market today. He says the WonderWindow's installation cost is lower than Low-e, argon-filled, double-paned, aluminum-framed windows—and that's before owners realize the energy cost savings for years after that.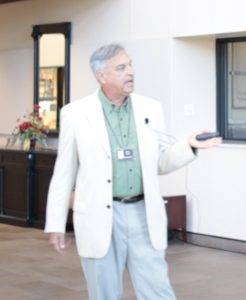 Isaacs also believes HS Research LLC can encourage the manufacture of WonderWindows regionally instead of from one central location. Doing so would lower shipping costs and related effects on the environment. It would also increase the opportunity for living-wage jobs around the country in 10 years, as Isaacs is now experimenting with local maker-space participants on the idea that skilled workers could build WonderWindows in different country regions.
"Innovate MS's MS/FAST program originally supported my applications for R&D funds that paid for window prototyping, testing to national standards, and building-code approvals," Isaacs said. "The CoBuilders Accelerator now sets the stage for our production and go-to-market of WonderWindows. Tony, Tasha and the Innovate team have supported our acceleration all along—and CoBuilders is rocketing our continuing progress."