Startup CEOs from around Mississippi stood in front of the audience, smiled big, advanced their slides, told their story—and asked for money. "Pitch Day" in Jackson, Miss., on July 28, 2022, was the culmination of months of work by startup companies, partners and organizers of the inaugural CoBuilders: A Partnership-Driven Accelerator.
"We launched CoBuilders to get organizations from around the state involved in a group effort to encourage and accelerate more startups from around Mississippi," said CEO Tony Jeff of Innovate Mississippi, which served as the central organizer behind CoBuilders. "It's been an amazing first year with some real wins for these companies. Even better is the promise of a bigger future for entrepreneurship in the state through these growing partnerships."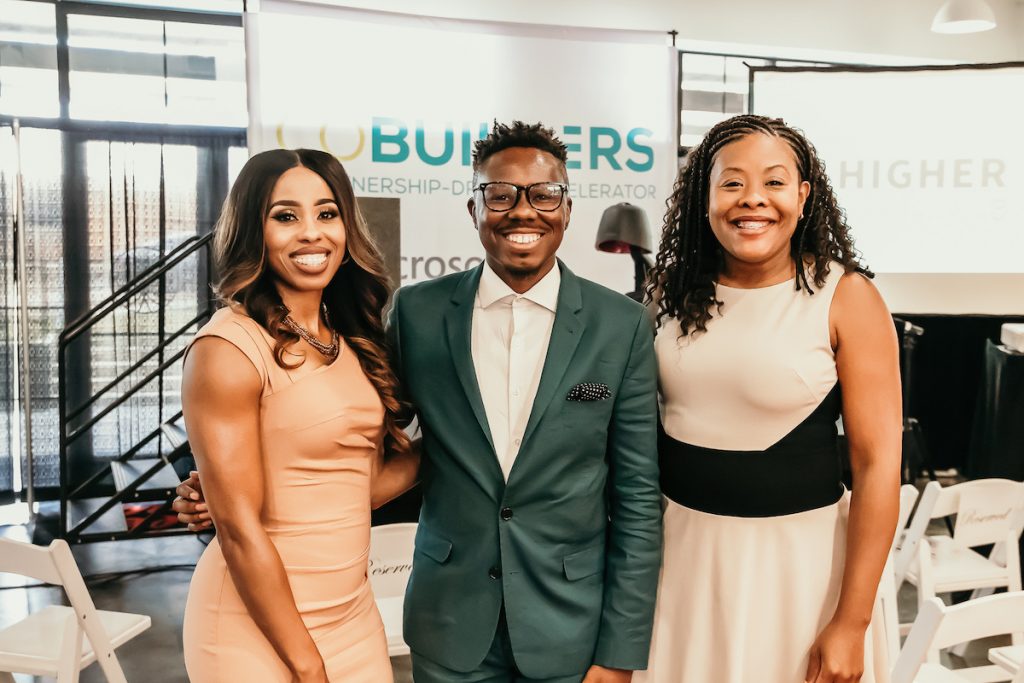 Representing men and women from all backgrounds and regions of the state, 21 companies started the CoBuilders accelerator in June after being selected by seven regional partner organizations. Of those who started, 14 companies gave pitches at Pitch Day, with seven classified as "investor-ready" and seven considered "companies to watch." The investor-ready companies have a product, positive customer feedback and a roadmap to profitability; companies to watch are still massaging their offering but show considerable promise.
"Pitch Day was the culmination of all the acceleration our business experienced through the CoBuilders Accelerator," said Mark Isaacs, CEO of GS Research, inventors of next-generation energy-efficient windows for homes and offices. "We bootstrapped our social impact production model in just a few months and got down to a 'nuts-and-bolts' go-to-market strategy initiating product launch." 
Isaacs said he had interest from attendees at Pitch Day in the energy and construction sectors.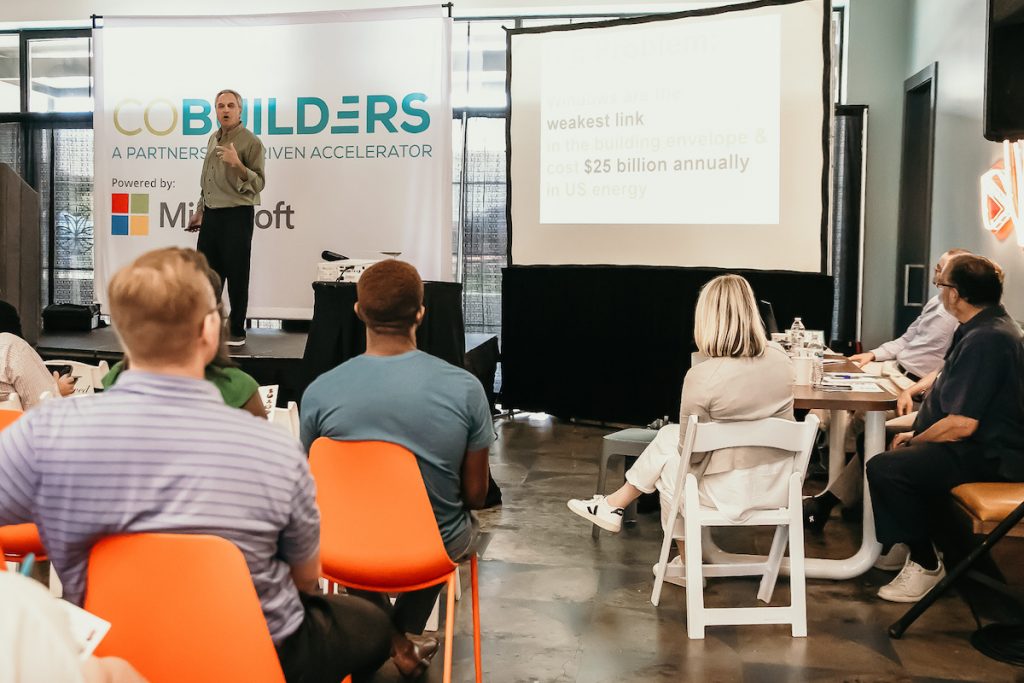 Over $240,000 in startup funding has already been awarded to participating companies thanks to sponsors such as title-sponsor Microsoft and strong support from the Mississippi Development Authority. Four companies won $10,000 Mississippi Seed Fund awards during the accelerator to help them prove the concept of their startup; a handful of companies are already in preliminary discussions with investors thanks to Pitch Day. Three companies earned $5,000 each from the LaunchFund, which supports women and minority-owned startup ventures.
Sponsors Jones-Walker, MWB, Trustmark Bank, Renasant Bank and HPC supported prizes during the pitch competition, ranging from $750 to $1,500 for honors ranging from "Most Coachable" to the "Keep-it-Going" award.
"The CoBuilders program was a tremendous success for our company. They connected us with dedicated mentors who had significant real-world experience, carefully detailed the various steps and pitfalls of starting a business, and encouraged us to think big," said Nate Phillips, co-founder of startup Daybreak Technologies out of Starkville. "We feel stronger and more confident from the experience and would absolutely recommend the program."
Now the investor-ready companies seek seed-round funding from Innovate Mississippi's network of qualified investors. The goal of most of these companies is an early round in the low six figures to help them get a minimum viable product to market, see how it performs in the real world, and learn what changes they need to make for long-term success.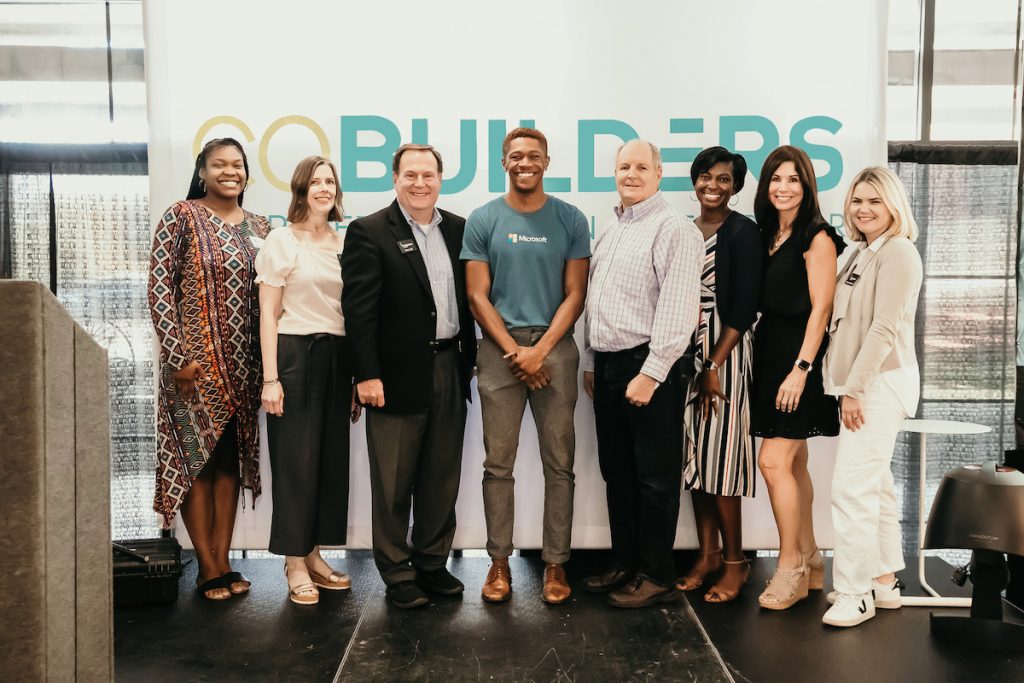 "Appreciate and enjoy the chase and the adventure," said Microsoft's J.J. Townsend in his advice to the startup founders. He encouraged them to constantly improve their skillset while having fun on the road to entrepreneurial success.
Innovate Mississippi and the CoBuilders partnership thank Microsoft, Mississippi Development Authority, Mississippi Power and MSET, and all of our Pitch Day event sponsors for their generous support.
###
Investor-Ready Companies: 
BloomTech Developments (founder: Melissa Bloom)

Daybreak Technologies (founders: Nate Phillips and Natalie Hughes) 

TherapyPlus (founder: LeJeune Johnson)

Momentum Dryer (founder: Martin McCurtis)

GS Research (founder: Mark Isaacs)

Diversified Food Solutions (founder: Sawyer Wyatt Smith)

Prospective Vision Solutions (founder: Angenett Curry)
Companies to Watch: 
The Skin Consult (founders: Sajani Barot and Sarah Malouf)

Humo (founders: Tony Luczak, Erin Parker, Charles Freeman, Carver Middleton)

Hometown Workforce (founder: Jason VanZant)

Time-Touch-Take, LLC (founder: Dr. Barbara Coatney)

Vertecore (founders: Paul and Sharon Leake)

iResonate (founder: Zeke Fairbank)

Shovel Solutions (founders: Ben Street and AJ Davidson)
Regional Partners:
Higher Purpose Co. (Black-owned businesses):

BloomTech Developments; TherapyPlus

Mississippi State University (Starkville):

Daybreak Technologies, Diversified Food Solutions, Humo

Jackson State University/The Beanpath (Jackson):

The Skin Consult, Momentum Dryer, iResonate

Hinds CC/SBDC (Vicksburg):

Prospective Vision Solutions

Oxford-Lafayette County EDF (Oxford):

Shovel Solutions

MS Polymer Institute/USM (Hattiesburg):

Vertecore, GS Research

The Meeting Place (MS Gulf Coast):

Time-Touch-Take, Hometown Workforce
Sponsors:
Microsoft – Title Sponsor

Mississippi Development Authority – Statewide Sponsor

MS Power and MSET – Regional Sponsors
Pitch Day Prizes:
$1,000 – TherapyPlus, Most Coachable (sponsor: Jones-Walker)

$1,000 – Time-Touch-Take, Best Customer Discovery (sponsor: MWB)

$1,000 – The Skin Consult, Successful Pivot (sponsor: Renasant Bank)

$1,500 – iResonate, Most Progress, Investor-Ready (sponsor: Trustmark Bank)

$1,000 – Daybreak Technologies, Most Progress, Companies to Watch (sponsor: Trustmark Bank)

$500 – John Fair, The Extra Mile Mentor Award (sponsor: Trustmark Bank)

$750 – BloomTech Developments, "Keep-it-going" Award (sponsor: HPC)

$750 – TherapyPlus, "Keep-it-going" Award (sponsor: HPC)
Additional Event Sponsors:
Mississippi State University Center for Entrepreneurship & Outreach 

Mississippi State University Department of Technology Management

The Small Business Development Center

Greater Jackson Chamber Partnership

Oxford-Lafayette County Economic Development Foundation